Receive Stock
Receive Stock is used when large warehouses required further divided and stored after the receive purchase has been completed.
---
The "Receive Stock" function in logistic is different from the "Receive Purchase" function in purchase. After "receive purchase", the goods have been received by your corporation from the vendor and inventory is increased. The objective of "receive purchase" is to confirm the items and terms (such as item code, quantity, unit price and credit terms) are correct before receiving the goods from vendor. The received goods become assets of your corporation and are ready for sales. However, for some organized companies, the process does not stop here. Some warehouses are so large that the received goods have to be stored properly in the warehouse in designated storage locations so that they can be retrieved easily when required. Therefore Popular MOSES provides the function "Receive Stock" for warehouse keepers to assign storage location to received goods before storing into warehouse.
Receive stock
Main Menu > Logistic > Inventory >

Receive Stock

;





Select items to receive and fill in information;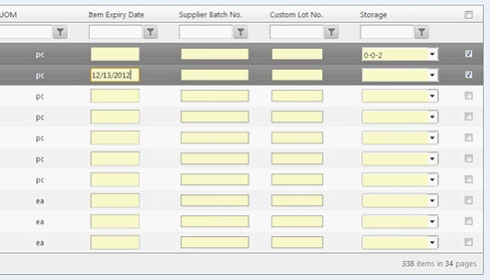 Click

Receive

;





Done.