Campaign
Main Menu > Sales > Campaign
---
A. Setting Points Multiplier
Add New > Type > Points Multiplier;

Fill in campaign name;

Fill in points multiplier and other information;

Done.
B. Setting Next Purchase Coupon
1. Add New > Type > Next Purchase Coupon

2. Fill in Campaign Name: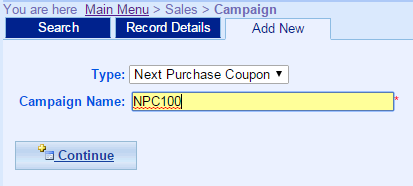 3, Setting Customer Price Group (if blank = All Groups), Start and End Date, and Redeemable item.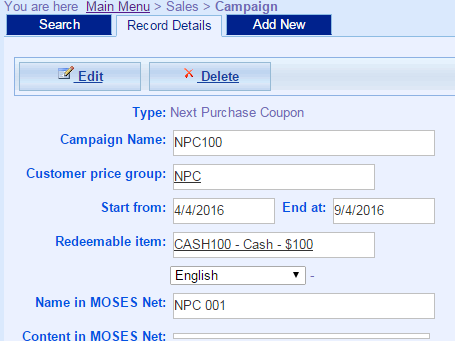 4. In Menu > Sales > Coupon > Redeemable Items, setting email content, which will be sent to customers after invoice created.

5. After Invoice created, customer will receive email: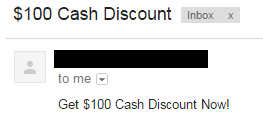 (Custom Email Format)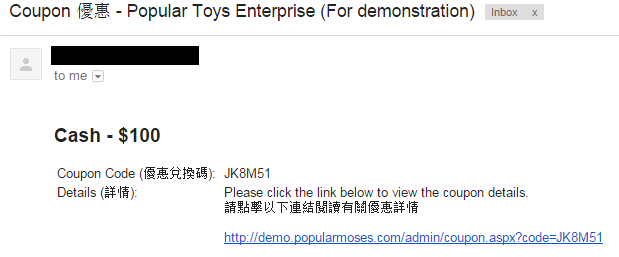 (Default Format: if no settings of email subject and content)
FAQ:

How to set Item Code Pattern?
- In Above Case: Prefix of Item Code start from "clo" and "Wine" are effective for this campaign.
- Symbol Explanation:
| | |
| --- | --- |
| ^ | Item Code Start from. e.g. ^clo which mean Item Code start from clo are effective, such as clothes, closet, etc. |
| | | To Separate two Pattern. e.g. Pattern A Or Pattern B |
| . | All Item Code Included. |