How to set and print EC-Ship labels?
---
A. Setting Shipping Method for EC-Ship
1. Please apply an API account from Hong Kong Post EC-Ship Official Website.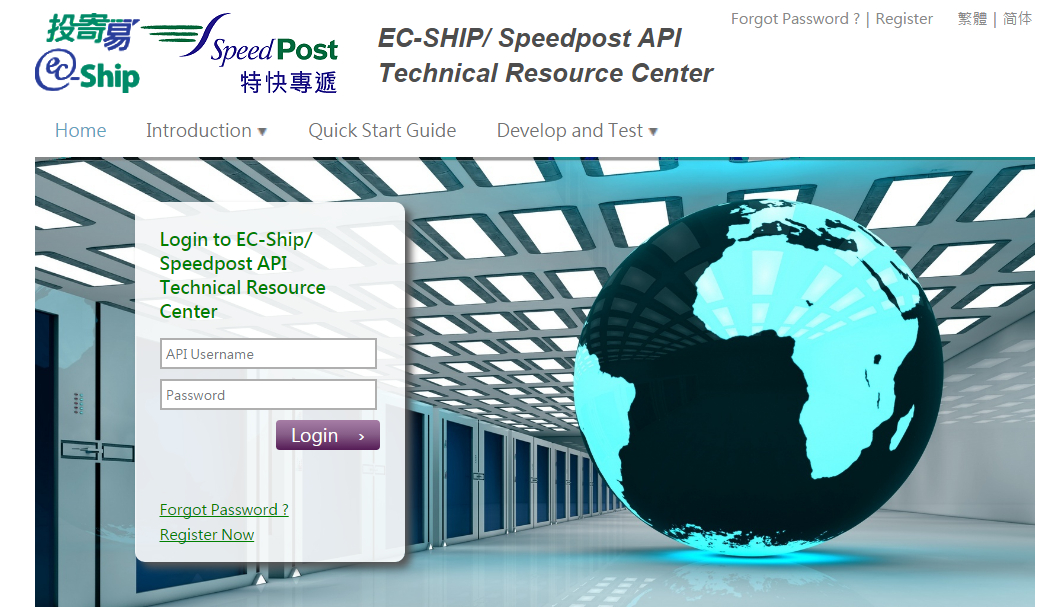 2. Go to Main Menu > Admin > Corporation > Logistic, fill in EC-Ship Username, API Username, API Password;

3. Go to Main Menu > Logistic > Shipping > Carrier, add new carrier "EC-Ship";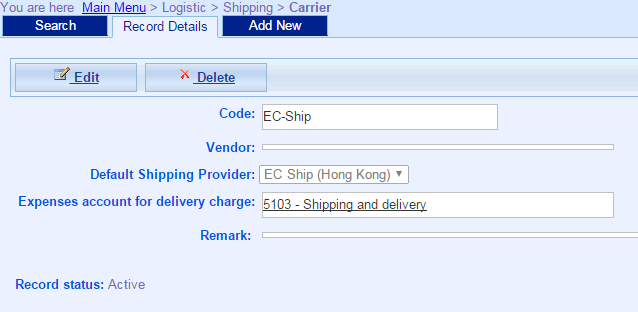 4. Go to Main Menu > Logistic > Shipping > Shipping Method, edit existing shipping method (if no existing, please create one);
In Carriers Panel, Add "EC-Ship" as a new carriers and make it default;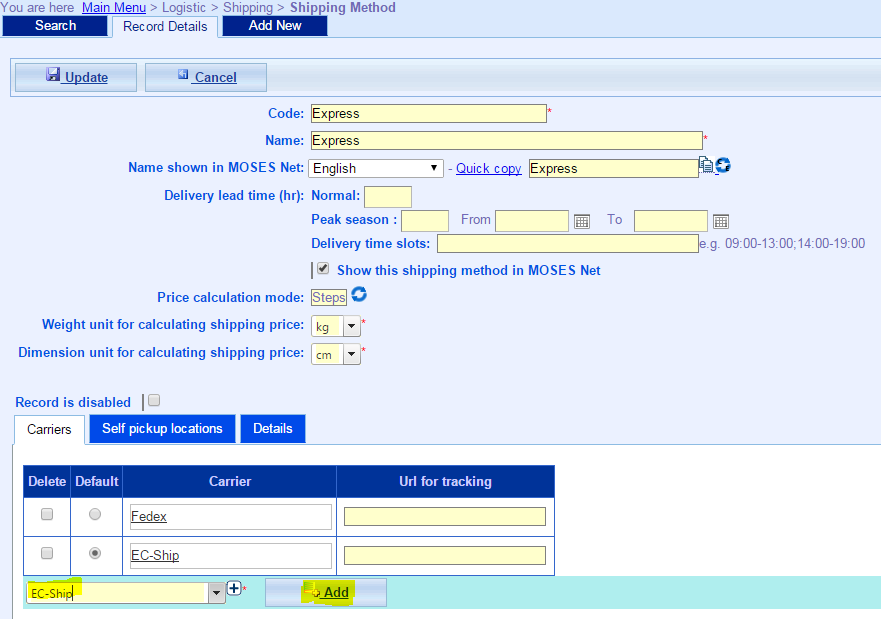 B. Generate EC-Ship Orders from Sales Orders
1. Go to Main Menu > Sales > Sales Order, select "Product" and "Delivery Date";

2. In "Shipping" panel, please select Ship by as "Express" and via as "EC-Ship", and then Save the Sales Order.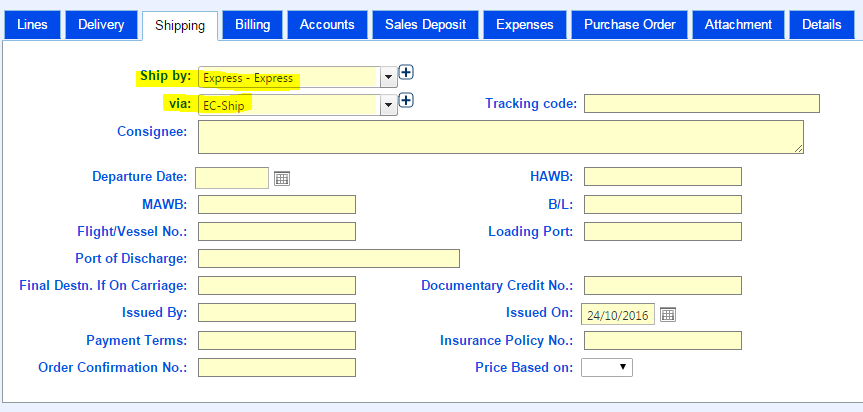 3. Click "More" and then click "Bill Sales Order";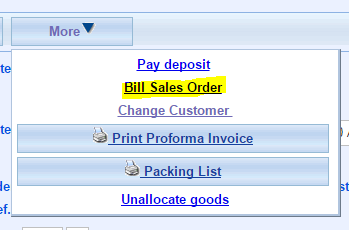 4. Select and Process the Sales Order to invoice;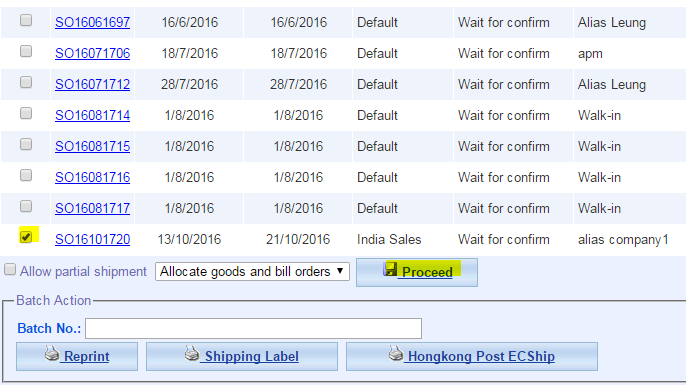 C. EC-Ship Orders Setting and Print EC-Ship Labels
1. Go to Main Menu > Sales > EC-Ship > EC-Ship Region, set default EC-Ship services to different regions.

(If you are not able to edit this page due to permission, please refer to Admin > Users Roles )
2. Go to Main Menu > Sales > EC-Ship > EC-Ship Orders, Select the range of Invoice Delivery Date, and then click "Show Invoices";

3. Fill in Seller's information (Default will be loaded from Admin > Corporation > Details)

4a. If you have set default EC-Ship Services in step 1, you can ignore the Shipping services part; (Skip 4b)

4b. If you want to set EC-Ship services different to default setting, you can fill in the Shipping Services part and then check the box "Override regional setting";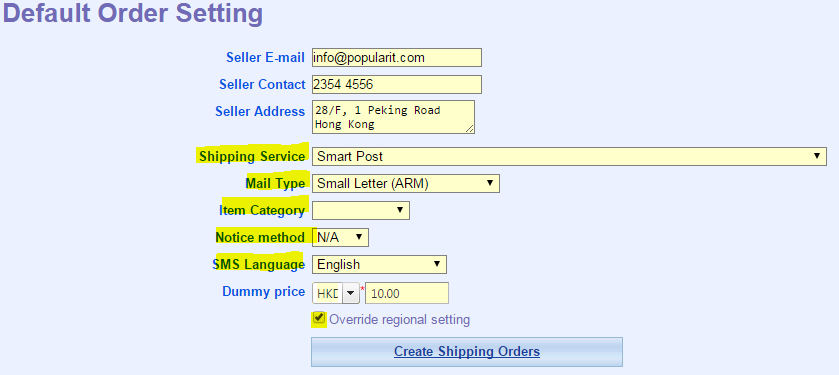 5. Dummy Price is the price shown on Shipping Orders (if not fill in, instead, the actual invoice price will be shown)
Please select the invoices on the top list, and then click "Create Shipping Orders" to create the Shipping Orders.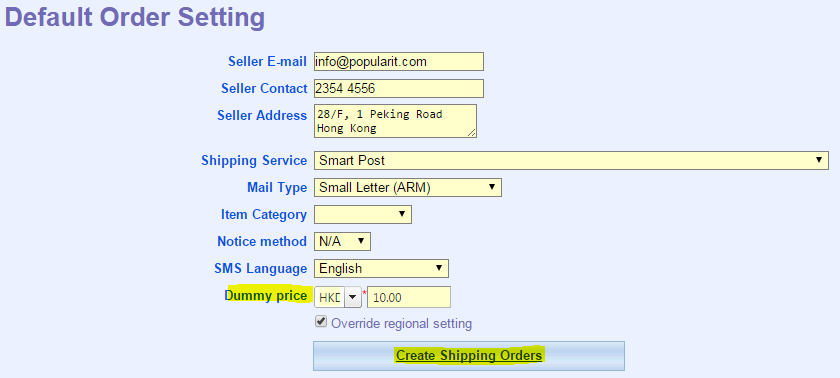 6. Select Shipping Orders, and then Click "Print Labels";

7. Label will be generated in PDF format, please print it using your printer and then post it with your product in Hong Kong Post.